Do you know this place?

Who are these people?

Thay are in a landfill

Who are those little kids?

Nails?

A nun? Whos knows Ed?

A orphanage?

Wandered in around five years ago and then wandered out again

Weird looking soup

I know where it is, we just came here for food

Its a picture of her father

He forgot he put her in a daycare center and lost her for seven years

Man, they freak me out, I'm freaking out mannnnn

There it is, the waterfall and everything

"Are you fay? Its me Sally Young, I was in your graduating class, man she's eighty

Wow, she is pretty strong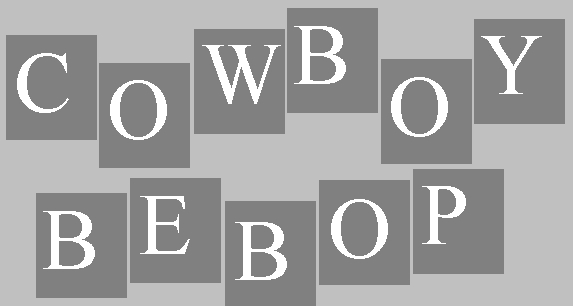 Good music (duh)
Don't run off like that Fay!
Hey Ein I got us something, wanna smell?
Fay does not look happy
Let it be Let it be Let it be Let it be, speaking words of wisdom let it be..
Don't sweat the small stuff
This is getting depressing
Now she remembers, in the shower
For once she doesn't look like a prostitute,
She apologized, things are getting stranger and more out of character
Ed, I finally remember where it is I belong, there is somewhere that you belong to, belonging is nice
Appledairy come with us and no one gets hurt
No we have to map the earth
Eggs?
Dude he's kicking Spike across the screen
Ed shouldn't be flying that thing
Dad!!!
He's swinging her around like a hammer
Thanks for taking care of my son, or daughter.. either way thanks
You wanna stay with me now?
Blam
It's Makintire
And they are gone
She comes home to nothing but dirt
She was a cute little kid, to bad she grew up to be like she is
white
it is gone
Man the music is good, but depressing
Where go you Ed?
By Ein, guess you're going to
No one there, sigh
Bye Bye
She drew her room in dirt and went to sleep
Man that is so sad
Egg eating contest
You can't come with me Ein, Do you wanna come with Ed?
Barefoot still
Come, lets go
Falling star
See you cowgirl,
someday somewhere