Cowboy funk

So, finally you show it

big city with bigger towers, teddy bear?

Big escalators

hotel prison? that's cheap

nothing disarmed bomb

dude a horse of course, what an idiot

lasso, boom and he gets away

duse that's harsh

the dog is wearing a wig, that's wrong I pity Ein

Jet is dressed as a hippy man

crap, him again, and with the horse

that looks weird

Crap, Fay is hitting on him, that's really sad

property damage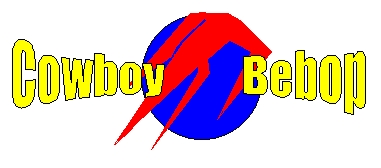 ok, he can't screw this one up, or maybe he can
he eats with the horse
ohhh, she just wants his money, now I feel better
woohoo, bigshots!
Blow up city hall, crap its him
They do look alike, and sound alike
man that's a joke
At least he's a bit brighter
Two hundred teddy bears, talk about overkill...
And Fay takes him out
great, now they're going to duel
man that's just pathetic, laughing
he is pissed
you win? man he retires that is really funny
So what are you going to do now?
I have no doubt I'll find something, see you space Cowboy
That was really cheap
He wan't to send out a warning against the needless waste created by the needless waste created by capitalism without phylosophy.....
space samurai?
see you space cowboy